Testimonials
Canadian Llama and Alpaca Association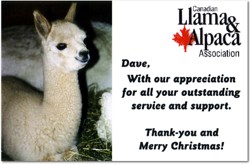 Our Association moved two of its web sites over to High Country Web Hosting earlier this year. Not only are the prices very reasonable, the service has been outstanding. Dave Bown helped us every step of the way in making the arrangements for transferring the sites and registering of our Domain Names, even providing assistance when one registration process was difficult to complete. Dave performed a "test-run" of the web sites using our design program to ensure we wouldn't have problems once the sites were on-line with the new server.
High Country is only obligated to provide hosting services for our sites, but has gone above and beyond in helping us out with technical glitches we've experienced on the web sites due to computers, software and our Internet provider. While these problems weren't High Country's responsibility, Dave was able of offer assistance in getting them cleared up and we've been running problem free since. Dave talks in terms I can understand, and then works comfortably with the company doing our computer maintenance.
Our calls for help are always answered promptly and professionally, but with the personal touch we appreciate.
I would highly recommend High Country Web Design and Dave Bown to anyone looking for exemplary customer service.
Lori May,
Executive Administrator,
Canadian Llama and Alpaca Association
JD Erectors Ltd.
Dave is a wonderful addition to the Okotoks and area business community and I would highly recommend him to anyone seeking a reliable, competent and affordable computer solutions service provider.
Margaret Dick,
Office Manager,
JD Erectors Ltd.
Easy To Teach
Thanks so much for your patience and professionalism. The experience definitely was a positve one and I appreciate all the extra direction you gave me.
Pam Wegner,
Owner,
Easy To Teach